Gearing up for SXSW15‬ in Austin TX this week, Seclusiasis is going to be affiliated with a few different unofficial showcases during the week! Heres the low down:
Bumsquad DJs, Johnathan Thomas, Grace1 Ent & Seclusiasis are doing evening street bass showcases at The Ranch both Thursday and Friday. Featuring Dave Luxe, Dailon, Swim Wear, Dev79, Howie Lee and more!  https://www.facebook.com/events/746858018755449/


Friday and Saturday is the two part Vibrate party presented by the Untz and PM Austin. And this is some serious family affair thats gonna be crazy fun with Alexandre, Normaling, Swim Wear, SubxChronic, Dev79 and more on Friday  https://www.facebook.com/events/594533444015776/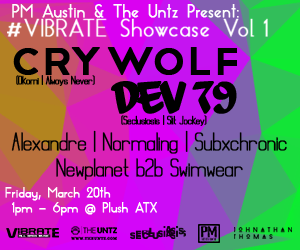 And then Darren Keen, Howie Lee, Johnathan Thomas, Archnemesis, and more banging it out on Saturday for a roof deck party!  https://www.facebook.com/events/1593468804199408/
We're gonna have a slew of new stickers and other cool giveaways and surprises so look for us!