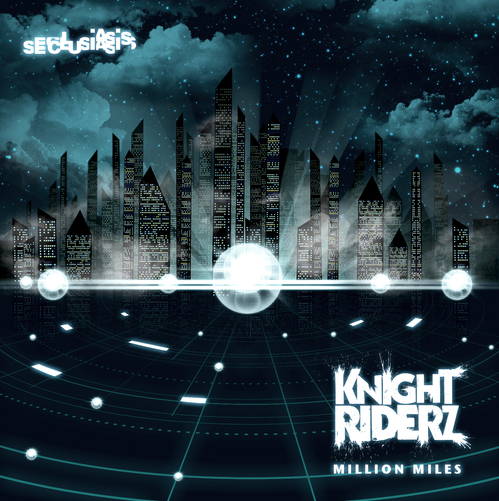 Seclusiasis roars into 2013 like apocalyptic thunder with "Million Miles", the clamorous 8-track single from Canadian glitch demigod, Knight Riderz. In anticipation of his forthcoming full length Seclusiasis LP, the anthemic "Million Miles" explodes like a supernova with its rolling hip-hop beats, crunked-out lazer synths, and twisted glitch vocals. "Million Miles" is coupled with the up-tempo swagger of "Imma Go Hard", another original track that is a collaboration with Vancouver's infamous Stylust Beats. "Imma Go Hard" showcases Knight Riderz lazer-like saw synth work surrounding a beautifully intricate melody.
On the remix front, we've pulled talents from around the globe for Knight Riderz's "Million Miles" single to start 2013 off with a boom! Tokyo's
XLII
[Ninja Tune, Civil Music] brings his surreal, off-kilter production talents by twisting the song out with fuzzed out guitar lines, marching metallic kicks, and a flurry of buzzing percs. Two-time DMC Champion, Traktor spokesperson, and Hot Mom USA label head,
Shiftee
, strips "Million Miles" into its core parts and then immerses them in waves of atmospheric drone. London-based producer and Seclusiasis newcomer,
Warsnare
, makes a hell of a label debut by rebuilding the track's parts as a swirling procession that moves with a jagged flow above a stuttering kick drum and bassline. Melbourne's
Sun In Aquarius
plunges "Million Miles" into the nautical depths of ambient glitch hop, while fellow Australian
Goosebumpz
turns it into a psychedelic sub-bass dubstep opus.