I didn't intend to cover an entire series for this month's Gleaming the Queue column, but I was so surprisingly captivated by Netflix's latest series, "Orange Is the New Black", that I ended up watching all 13 episodes in a matter of days. Not since watching the third season of "Breaking Bad" on DVD have I plowed through a series so quickly. I watched 10 of the 13 episodes over the course of a single weekend – and, should any of you be curious – I watched the third season of "Breaking Bad" on a single Saturday. As I was surprised by how much I enjoyed "Orange Is The New Black", I decided to review it for this month's Queue.
As unbelievable as it may sound, "Orange Is The New Black" is some kind of hybrid of David Simon's "Oz" and Ilene Chaiken's "The L Word." And, to be completely forthright, I only started watching the series because I figured it would be an orgy of caged heat lesbian prison sex. And yep, there's plenty of it. However, what caught me by surprise with the series is its ability to lean into and then subvert my expectations of a girl-on-girl melodrama behind bars. Rather, "Orange Is the New Black" brilliantly tackles the grinding unfairness of the penal system and social gender roles in manner that is shockingly never preachy or grim.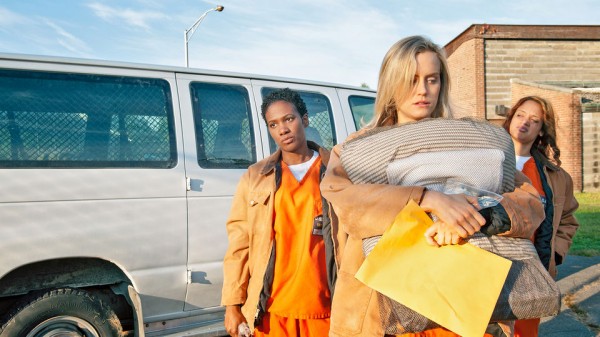 The masterful plot line navigation of "Orange Is the New Black" must be fully credited to the series creator, Jenji Kohan, who is best known for creating Showtime's "Weeds". Kohan adapted "Orange" from a memoir by Piper Kerman, a WASPy Smith College graduate, who served fifteen months in a Danbury prison for laundering drug money for a West African kingpin. I did a bit of research on Kerman because the "based on a true story" exclamation of the series got me curious as to what was fictionalized for the Netflix adaptation. I found that in the mid-1990s, when in her reckless early twenties, Kerman dated an older woman, Nora, who happened to be an international drug trafficker. Nora was caught and named Kerman as an accomplice so to reduce her own sentence. I couldn't figure out why Kerman wasn't arrested after she was named as an accomplice, but did find out that a decade later – but still within the limits of the penal code – the Feds showed up and slapped the cuffs on Kerman. At the time, Kerman was engaged to a man and living a law-abiding life as a West Village creative-class yuppie. Kerman decided to write a memoir of her experience in jail which became the book on which Netflix based its series.
Now, in any other hands but Kohan's, "Orange" would have been cringe-worthy premise. However, Kohan transverses that tightrope walk effortlessly. What I found most fascinating about the Netflix series (and perhaps the memoirs as well; I've not read it) is that it is very clear about how much Kerman's fictional projection – Piper Chapman – benefits among the prison population by her demographic rarity: an Upper West Side white, blonde New Yorker. When Piper arrives, black women glare, while all of the white women smile. A new inmate-friend of Piper's clarifies in that pilot episode, "We look out for our own," she says—then, after Piper's glance, adds, "Oh, don't get all P.C. on me. It's tribal, not racist." When there's a vote for prison representatives, it's done by districts: blacks, whites, Latinas, Golden Girls, and "others" [i.e. Asians]. The homophobic case manager, who doesn't know Piper's sexual history, takes her under his wing – for a while anyway. As in "Oz", "Orange" explores how race divides the inmate demographic – except here, the penalties for crossing those lines are not nearly as graphic.
Lead actress Taylor Schilling gives an effective performance as Piper Chapman, but the show really begins to blossom as it explores the cast of characters that Piper meets in prison: a tough-talking Russian chef (Kate Mulgrew); a male-to-female transsexual (Laverne Cox); an older Haitian woman whose crimes are a penal mystery (Michelle Hurst); a young Latina (Dascha Polanco) whose mother is also in prison, and; a horny junkie (Natasha Lyonne). There's also a raucous bull dyke (hilariously played by lesbian comedian, Lea DeLaria); a nun; a yoga-teaching hippie; and a hillbilly right-wing Holy Roller named "Pennsyltucky" (an Emmy-worthy performance by Taryn Manning). "Orange" delivers a truly impressive array of prison characters, many of which are rarely shown on TV (online, cable, or network). Even the characters that make up the prison staff have depth – notably the delusional C.O. the inmates dubbed "Pornstache" (perfectly portrayed by The Wire's Pablo Schrieber).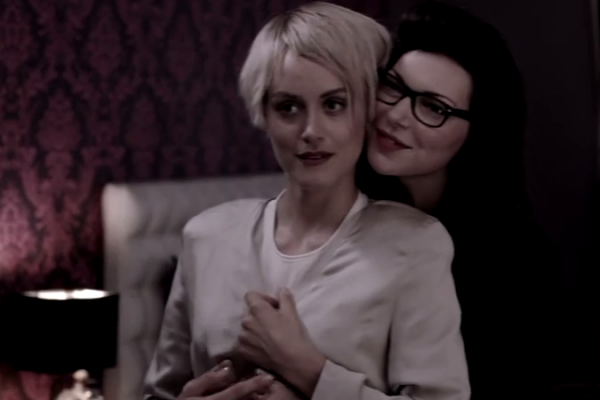 The sub-rosa love triangle plot line develops when when Piper discovers that her drug smuggling ex-girlfriend, Alex (the masterly deadpan Laura Prepon, the ginger from "That '70s Show"), is in the same prison, thereby creating tension between Piper and her fiancé (played by Jason Biggs, who assumes decade long role as portraying masturbators). The love triangle narrative makes Piper a fascinatingly ambiguous figure: her former homosexual persona has as much legitimacy as the straight girl she's become.
It is this intricate examination of sexuality that one of the many themes explored in "Orange Is the New Black". Sex operates as comfort, as currency, as romance, and also as punishment, with male guards using security frisks to bypass consent. But "Orange" is also smarter and subtler about the entire range of female-female dynamics than anything I've ever seen on TV. The women form quasi-familial tribes and wounded triangles; it's a matriarchal subculture examines the dynamism of the American woman through a penal prism. And although I am sure there will be much said about "Orange" being a breakthrough series representation of gay women, I feel that limiting that representation to exclusively to lesbians is too narrow a viewpoint. "Orange Is the New Black" casts a much wider view to that of modern American woman. The series' multi-cultural cast from up and down the socio-economic ladder allows for damn near every female voice to be heard – but does so without being obvious or preachy. Come to think of it, the exacting details peppered throughout "Orange Is The New Black" are so subtle that I didn't even think about the depth of the series' thematic levels until I sat down to write this review. But rather than expound on my theories further, I will close by simply recommending that you take the time watch Netflix's latest triumph and discover them for yourself.