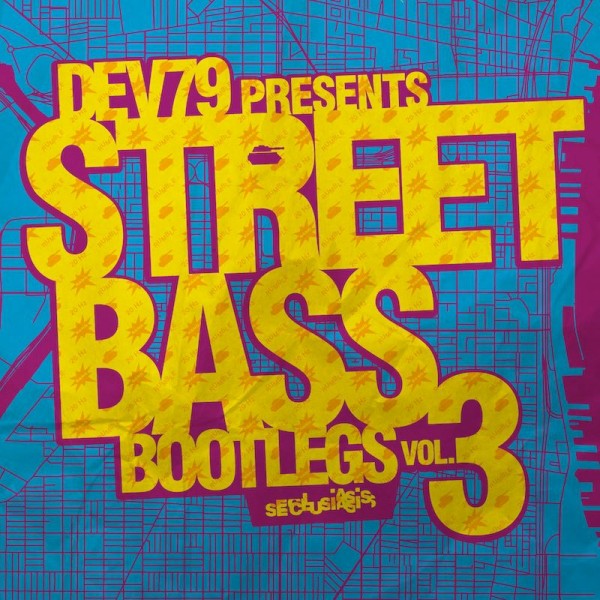 Tracklist
01. Mz Bratt – Selecta (Dev79 Remix)
02. Danny Brown – Grown Up (Starkey Remix)
03. Aquadrop – Plaza
04. MANIKAN & Taste Tester – Back2Back
05. Dev79 – Bang Gang
06. Ciara – Got Me Good (Starkey Remix)
07. King – Alright
08. Nila – BTSU (Knight Riderz Remix)
09. B.O.B. ft TI & Juicy J vs Starkey – Lies in this Bitch (Dev79 blend)
10. Blok Boyz ft Oschino – Philly Boy Clap (Dev79 Remix)
11. KW Griff ft Porkchop – Bring In the Katz (rar Kelly Remix)
12. Dev79 – Riddim of the Night
13. Distal – For You Girl
14. Amerie vs Jay-Z – This One Thing/Change Clothes (Son of Kick Remix)
15. JME – Murking (El Carnicero Remix)
16. Dev79 – Going Outta My Head ft Blok Boyz
17. Mike Jones – Turnin' Headz (MANIKAN Remix)
18. Mary J Blige – Ooh (Bombé Remix)
At long last, Dev79 presents STREET BASS BOOTLEGS 3 is now available FOR FREE on Club Tapes.
The Street Bass Summer jumps off with the third installment of the widely popular (and always free) Street Bass Bootlegs compilation series. It's been nearly 330 days since Street Bass tsars, Starkey and Dev79, delivered the last installment of Street Bass Bootlegs and it has been well worth the wait. Dev79 presents Street Bass Bootlegs Vol. 3 is bigger than its predecessor – a staggering 18 tracks – that ebbs and flows effortlessly through extraterrestrial crunk, atmospheric R&B, scattershot hi-hat grime, and gully Martian hiphop. Or, simply put, the all-consuming NSFW swagger that is Street Bass!
With remixes and original works from vanguard producers around the globe, Street Bass Bootlegs Vol. 3 is a collection of 18 scorching heaters primed to ignite club speakers straight through the summer. From Milan's Aquadrop to London's Son of Kick to Edmonton's Knight Riderz to the ATLien triumvirate of MANIKAN, Taste Tester, and Distal, Dev79 presents Street Bass Bootlegs 3 soundtracks the international Street Bass movement.
Among the remix highlights are Dev79's snare roll tornado remix of Blok Boyz and Oschino's "Philly Boy Clap" as well as his juke-leaning rework of Mz Bratt's "Selecta"; Starkey's singular brand of sonic Tourettes keep pace perfectly beneath Danny Brown's signature syncopated flow on "Grown Up". Bombé's ethereal dub reconstruction of Mary J. Blige's "Ooh" provides for a haunting closer, while .rar Kelly revamps KW Griff & Porkchop's Bmore Club anthem, "Bring In The Katz" into the bleakest technoir this side of Berlin.
Just as dynamic as the remixes are the original compositions peppered throughout Street Bass Bootlegs 3. Aquadrop's "Plaza" is an explosive hybrid of grime, trap, and pitch-bent synth roaring beneath Rick Ross sampled vocals, while King secures his sub bass sovereignty is unparalleled with his "Alright". Distal departs from his signature Atlantian fookwork with the soulful "For You Girl", while his Southern fried brethren, MANIKAN & Taste Tester, deliver a felonious one-two punch "Back2Back". But, to be honest, to even say "highlights" is a misnomer. All 18 tracks bring equal force to the sensatory Voltron that is Dev79 presents Street Bass Bootlegs Vol. 3.
Check out what the press is saying about Dev79 presents Street Bass Bootlegs 3 and listen to some of the tracks featured below. And then GO COP IT at CLUB TAPES
MUSIC YOU NEED | VIBE MAGAZINE | DO ANDROIDS DANCE? | THE DANKLES | HIGH ON BEATS | BALTIMORE-CLUB.COM | KICK OUT THE JAM | TRAP & BASS
Street Bass Bootlegs Vol 3 Mini Mega Mix by Dev79
Aquadrop – Plaza by Seclusiasis
Danny Brown "Grown Up (Starkey Remix)" – from Street Bass Bootlegs Vol. 3 by starkey