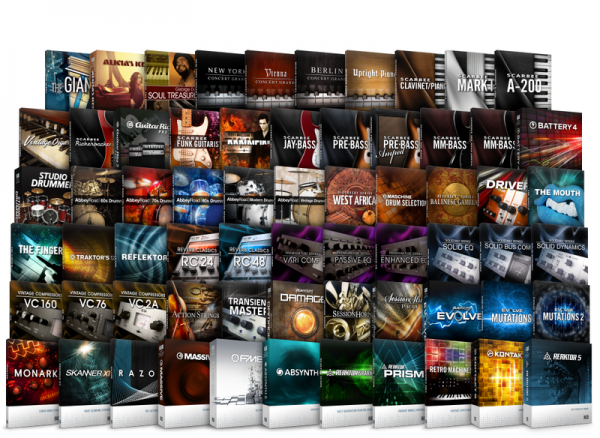 GEEKS REJOICE. It's another Beat Artillery! haha.
So, Native Instruments, last week released the update of their Komplete bundle package with some updates to some favorite plug-ins, as well as a few new goodies. For those of you who are unaware, Native Instruments has been on the scene for years and are pretty much the industry leader for sampling workstations with their product, Kontakt, and for sound design with another device, Reaktor. Komplete comes in 2 varieties… the regular version and the Ultimate edition. Basically, the Ultimate edition is so intense that they have to send you a harddrive to install it… because if they sent you DVD's it would take like 50 DVD's to install and countless hours. You can view the differences in the bundles here.
Most of their products can be launched as standalone apps, but most producers, will find themselves using their products as third party plug-ins in their favorite DAW.
Let's talk about some of the new features of Komplete 9. First off there is an update to Battery, their flagship drum sampler. Although you can use Battery for launching any kind of samples, it's primary used for drums and one-shot hits. (Although I find myself using it more and more for pitching things across the keyboard due to its ease of use and built in effects.) Battery has a slick new interface (putting it more in-line with Maschine) as well as new compression and transient effects built right into the app. The built in library has been re-designed from the ground up as well as its search and import functions.
For users of the Maschine workstation, you'll find that you can now open all of the Komplete effects and instruments inside Maschine, which makes your workflow a lot better and the standalone Maschine app that much more powerful.
The brand new synth that's included in Komplete is called Monark. It's built inside Reaktor and is a true re-creation of the classic Minimoog synth. It's so true to the original Minimoog's design that it's monophonic! I've had the pleasure of working with Monark for a few weeks now and I must say that the oscillators and filters sound amazing and you'll find yourself grabbing it as one of your go-to synths. It's rich texture is amazing.
So that's just a sample of some of the things you'll find in Komplete 9. For more info, check out the links in this posting.